The Fresco
Pergola-Style Patio Cover with Translucent Roof Panels
The Fresco polycarbonate patio cover provides a pergola-style roof that allowed some light to pass through while keeping the heat out. The Fresco was born from the simple style of the Aria pergola. Then we custom designed a system to fasten the industry's best standing-seam, infrared rejecting panels atop it This winning combination allowing light to brighten patio space that keeps cool in summers and keeps you and your patio furniture dry all year round.
Homeowner Benefits
Installing a pergola-style patio cover has many benefits: they look stunning, add outdoor living space, and increase the value of your home. The Fresco takes all those benefits to their fullest through the use of translucent polycarbonate roof panels. The panels allow filtered light through, but block the sun's heat, reflecting it back skyward instead of allowing it to pass through to your patio below.
The Fresco is the only polycarbonate patio cover system that uses full-standing-seam roof panels. This eliminates leaks and employs strong structure attachments that make Fresco ideal even in the country's highest wind and snow zones.
Using 20-millimeter-thick polycarbonate panels - the thickest beefiest in the industry, with five separate air chambers for insulation - gives Fresco panels the might to withstand all Mother Nature's abuse while protecting your patio below.
Fresco Key Features
Decorative Post Caps
Translucent Polycarbonate Roof
Fresco Cover Connection
Translucent Cover Connection
Inspiration
The Fresco is the best of all possible options for homeowners who want to cover their patio and protect it from the elements, all while maintaining a light and bright space. Fresco polycarbonate panel system's heat reflectivity lends your patio a truly outdoorsy ambiance while keeping things nice and cool, thanks to its solid roof. In addition to the light factor, our customers tell us they love Fresco's decorative pergola styling. It simply looks like it belongs on even the most distinctive homes.
Utilizing a special, ultraviolet light-rejecting treatment to the top panel layer, the Fresco reflects 45 percent of the sun's heat upwards, while allowing 40 percent of visible light to pass through. Standing under a Fresco feels like you are standing under a solid patio roof.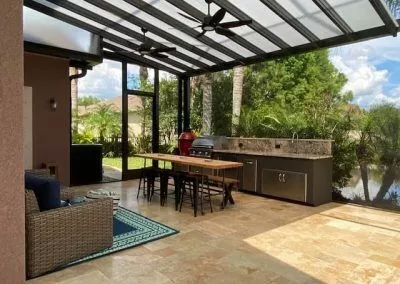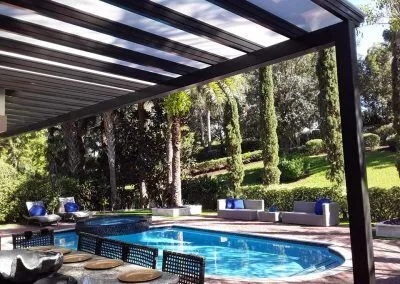 Go Back