The Contempo
Decorative Solid Roof Patio Cover with Truss Ends
You are looking for a patio cover that looks great and protects you from the heat with high levels of insulation. And you want it as soon as possible, right? Plus, you want the look of a wood-framed patio, but you don't want to pay the high price of wood or spend every spring resealing, prepainting, and checking for termites? No problem! For you, Renaissance Patio created the Contempo Patio Cover with just those requirements in mind. The Contempo builds on the structure of our Moderno Patio Cover but adds the decorative flair stylish truss ends provide, giving it a more traditional wood-framed roof look.
Homeowner Benefits
The Contempo Patio Cover is built especially for homeowners who want it all: strength, durability, style, and affordability. By building on the same framework as our other Patio Covers, the Contempo strikes a balance between the fully framed patio roof such as our Classico line, and the simplicity of the Moderno.
Using all aircraft-grade aluminum, UV-resistant, injection-molded resin parts, and rust-resistant screws, the Contempo offers you the look of wood framing, without the excessive cost and time required to install and full wood-framed patio.
Aluminum core patio covers require little to no maintenance and never require painting.
Contempo Key Features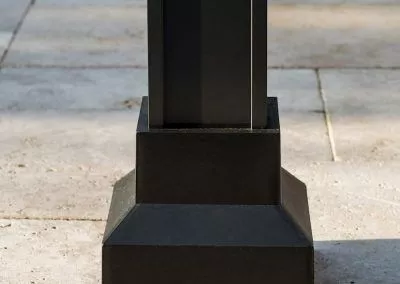 Decorative Post Caps
Gutter Downspout Connector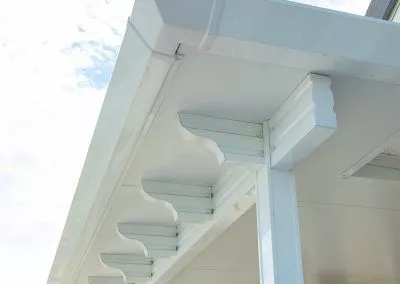 Contempo Roof Detail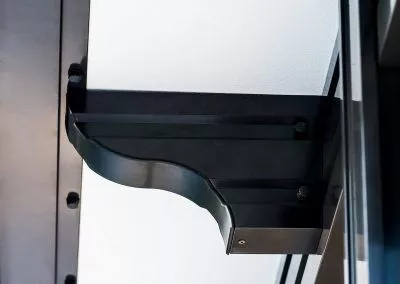 Contempo Rafter Detail
Inspiration
The Contempo is about balance - the balance between clean lines and the traditional appeal of wood-framed design and between affordability and high style. With the Contempo, you have a winner on your hands, and our customers agree. The Contempo is an ideal patio for homeowners with an eye for style who don't want to spend a fortune attaining it.
We designed and engineered Contempo from scratch for extreme strength. It's tough enough to stand up to high winds and heavy snow loads. When you invest in a Contempo, you are buying a patio for life, not just a cheap addition that fades quickly or collapses after a year.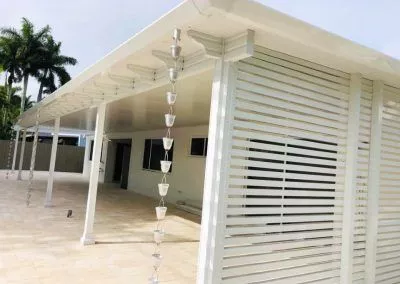 Go Back