The Aria
Decorative Pergola with Shade Lattice
The Aria Pergola provides partial shade in a stunning backyard decoration. Using all extruded aircraft-grade aluminum alloy with a tough, attractive powder coat finish, we have engineered the Aria to provide quick-install, low-maintenance shade. The Aria even includes an adjustable shade lattice so you can decide how much sunlight you would like to pass through - from a bright 90 percent to a cool 40 percent.
Homeowner Benefits
Most of our customers who install Aria pergolas use them to shade their patio for greater enjoyment of sunny days. Since they don't intend to spend time outside when it is raining, they don't mind that pergolas feature open roofs, allowing rain to fall through. What is most important to them is shading their patio or a spot in their yard with an architecturally stunning work of yard art that cuts down on heat.
The Aria is one of the industry's only fully extruded, fully structural pergola systems. Unlike thinner metal systems, the Aria is designed to last for the life of your home.
Using our 2-inch-wide wide shade lattice tubes, the Aria can provide between 60 percent and 10% shade, so you can choose how much sun you want to illuminate your space.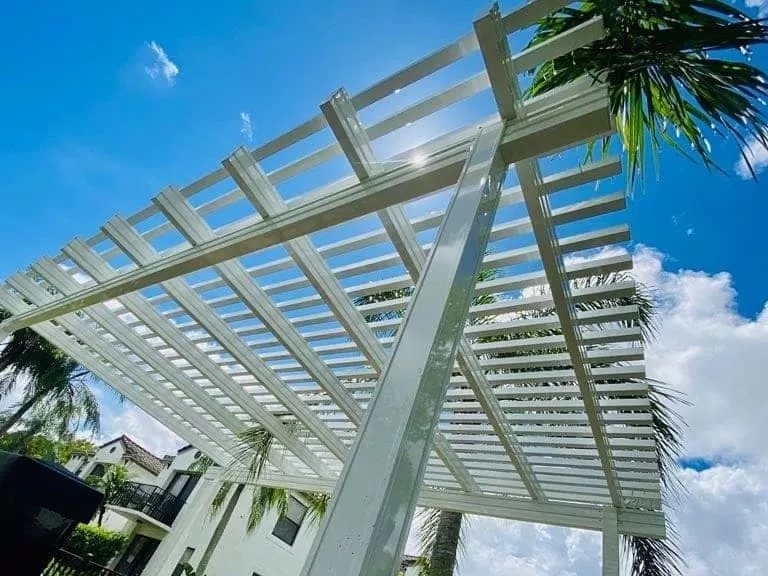 Moderno Key Features
Decorative Post Caps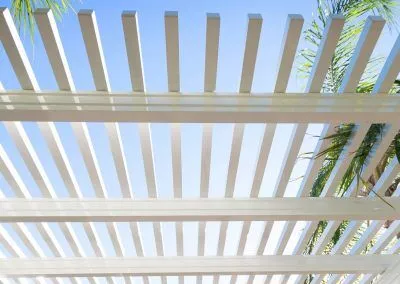 Aria Lattice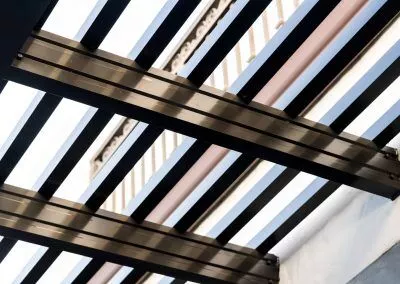 Aria Wall Connection
Aria Connection
Inspiration
The Aria is the clear choice for shade and style. Utilizing a shade lattice to cut down on heat, all extruded-aluminum construction for serious strength, and a powder coat finish for lifetime durability, the Aria is a backyard pleaser.
The Aria can be built to virtually any shape and size, even round, so let your imagination run wild in the design process.
Go Back